This is duplicated from my own blog here
http://sandradodd.blogspot.com/2008/07/learn-nothing-day.html
(where it has eight comments). The top image is a link.
---
The dog is Fergie.
Rather than make new posts, I'm just going to add to this as the day goes on.
---
11:30
The mail came, and just reading the cover of The Smithsonian magazine, I learned something. I put it down until tomorrow.
An mp3 player came from Hong Kong. The packaging and instructions are always interesting on those. I put it aside for Marty to look at later. It's for our Saturn, which has a tape stuck in the tape player and only radio besides that, but this will work in there and we won't have to buy a new car stereo.
The Estey Organ newsletter came, and I was reading through because I'm in correspondence with someone who wants to buy one and I don't want to sell mine. The museum they're working on in Vermont, where the organs were originally made, has several Junior Organs, they say (
the kind I have
). Maybe they'll sell one to this guy.
Back to trying not to learn now.
---
12:03
The Radical Unschoolers' Network is new, and fun. I knew how Holly had answered the three requisite questions, but today I saw Marty's:
what does "radical unschooling" mean to you?
What does "Marty Dodd" mean to you?
how long have you been unschooling or homeschooling?
since i stopped going to school
names and ages of children
i don't know, i haven't met any of 'em yet
Holly was member #123 (good number) and she wrote:
what does "radical unschooling" mean to you?
I don't report the news, I just make it.
how long have you been unschooling or homeschooling?
Never really counted.
names and ages of children
Keith is 52 and Sandra is 55 (7/08)
http://familyrun.ning.com/
(gone, now)
---
1:30-3:00 lunch with Kirby and Katie Gist, at Pars where Marty was working.
Loved the waiter, Julian. Talked to him about unschooling because we had our Learn Nothing Day shirts on. He bragged up Marty behind his back. I gave him some URLs and he gave me his e-mail. We checked before we left to see whether he was working Saturday; he isn't. I came home and e-mailed an invitation to the party Saturday.
That wasn't much learning. Good session for the day.
---
4:45 Keith called for a ride from work. Problem with motorcycle handlebars. Drove the 15 miles or however far to Honeywell. Keith drove back, and on the way we stopped and unloaded old computers and some stuff at Goodwill, which Kirby and Katie and I forgot to do.
---
5:30 or so Keith has bright idea to go back to Honeywell and fix his bike. I didn't take a book. It took an hour. The sun was beating down on rocks and parking lot. I walked around looking for volcanic river rocks in the bought-and-delivered rocks in the divider islands at the parking lot. Found 30 or so. Kept coming back to put them in a towel in the backseat of the car. I was feeling sorry for myself, and sorrier for Keith, but wasn't learning much.
---
7:00-7:30 or so, followed Keith home slowly. When we turned into our neighborhood his tailpipe fell off. We came home, he got other tools, I offered him a ride back, but he said he should walk off the frustration. No learning for me. I came to look for more blog posts on Learn Nothing Day and found some really good ones. Learned that learning doesn't stop. (No, I already knew that.) Learned that one poor child hates Learn Nothing Day. That made me sad. I never meant to make anyone unhappy.
Came in and Marty asked me how to spell "science" in French. I said the same, but pronounced differently. He didn't like the answer; I said "Google language tools." They already had a translation page up. He was putting duct tape on the sides of his project, and writing "science" in Japanese and Russian on different sides.
---
8:00 more or less, helped Marty with his "Science Project." Learned he and Kirby spent $40 on Everclear and fruit juice to make punch for the party. They let me taste it with a straw and it tastes honestly very good. It's in a five gallon water cooler, and I helped clear out the back fridge enough to hold it. Put a deep pie pan under it just in case it leaks a bit.
Marty said that some states ban the sale of Everclear because it's basically moonshine, and too strong. He said it was banned in New Hampshire and California--six or seven states altogether. I did not know that. Learned something.
DOH!
---
8:45 called Hotel Albuquerque to see what time they start serving breakfast. Tomorrow is Ramona King's birthday and we always go to breakfast early on her birthday to celebrate together. She lives a few hundred yards from the Hotel Albuquerque and they open at 6:00. Perfect. But I need to go to sleep pretty soon to be clever and charming that early. Keith wakes up at 5:00 a.m. anyway, but with the motorcycle compromised and the van in the shop since Tuesday, and Kirby in town, what will be driven by whom tomorrow has not been decided. I need a Ramona carriage about the time Keith goes to work is all I know.
Marty doesn't work tomorrow, so there's his vehicle. Kirby has a parade of friends through so there are some vehicles. We'll do okay.
---
10:00
Holly is off at a swimming party "with schoolkids." She wore and Brett wore their Learn Nothing Shirts the other day. Brett and Kirby are playing Halo. Marty was texting when I went in. I took a picture of them in their shirts, and Marty took a photo of me in mine.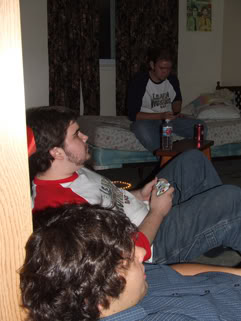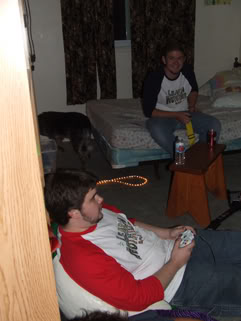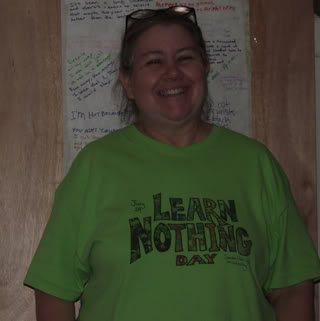 ALL DAY I waited to see if anyone would notice and comment on my unschooling page being gone. If it was mentioned anywhere, I missed it. I'm going to restore it now and go to sleep, but if anyone wants to see what they missed, it's here:
http://sandradodd.com/learnnothingday/cover
, but today it was sandradodd.com/unschooling.
[Note in a later year... That page used to have soft, floaty words that said "Learn Nothing Day" scrolling slowly by, while Pachabel's Canon played. Sometimes old routines like those are not supported anymore. Bummer! :0) ]